The Andover Museum Loft Singers, so called because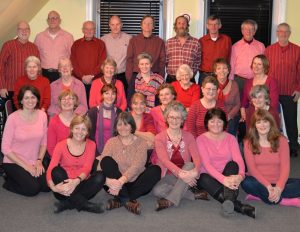 our main practice venue is the upper room of the Andover Museum of the Iron Age, were formed in 1997 following a TAPS community project in Wherwell, a village near Andover.
The choir sings in three or four part unaccompanied harmony in a style that borrows much from the "West Gallery" and other largely rural singing traditions such as that exemplified by the Copper family of West Sussex. Much of the repertoire is local and is arranged for unaccompanied voices by local musicians.
From the outset the choir has been a non-auditioning choir. Parts are not allocated by gender, but chosen by the singers for range, balance and preference. Singers are given the opportunity to try out all parts if they wish. We work hard to prepare for performances, but we enjoy ourselves along the way.
We are ably directed by Paul Sartin (of Bellowhead, Belshazzar's Feast, Faustus fame). We are also lucky to have visiting conductors in Cathy Mason, Alison Willis and Rod Edbrook.
We perform at local events, seasonal festivities and our own concerts. We also like to take part in events with other local musical groups. We sometimes arrange less formal choir events, usually involving a walk and finishing with a beer, food and singing.