Welcome! Andover Museum Loft Singers are a community choir from Andover, UK.
We sing unaccompanied harmony arrangements of folk music, local music from Hampshire and from the rest of the UK and other countries and continents.

Stroud Wassail - 12th January 2019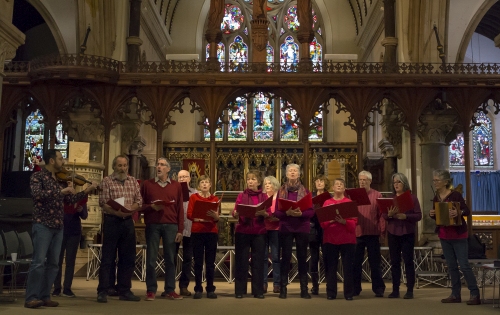 By invitation of the organisers, Andover Museum Loft Singers was the first choir ever to perform at the annual Stroud Wassail on Saturday, 12th January 2019.  We performed a selection of songs from our repertoire in two very different locations - St Laurence Church and outside the Subscription Rooms. Here we are pictured performing in St Laurence Church, accompanied by Paul Sartin and Gill Corbett.
The choir perfomances were well received and a great day was had by all.  For more pictures and a video please click the link below.
Carol Singing Raises £322.76 For Charity
Andover Museum Loft Singers sang Carols and Christmas songs in several Andover hostelries on the evening of 20th December 2018 and collected £221.04. We would like to thank the customers of The White Hart Hotel, The Redbridge and The John Russell Fox for their generosity.  Particular thanks goes to The Lardicake for generously hosting our after sing party and for their contributions.
The Annual Solstice Walk followed by singing at The White Hart, Stoke on 23rd December raised a further £101.72
We are pleased to be able to hand over the magnificent sum of £322.76 to the Andover Crisis and Support Centre.
This Andover Museum Loft Singers promotional video presents the choir performing under the direction of Paul Sartin.
The song excerpts are from:
If I Was A Blackbird - Trad. arr: Paul Sartin
Love Is All Around - Reg Presley arr: Paul Sartin
Miners Lifeguard - Trad. arr: Paul Sartin.
The Bedmaking - Trad. arr: Paul Sartin
Please visit our Sounds page to hear the complete recordings of all these songs.
Choir Membership - Waiting List Is OPEN
The Andover Museum Loft Singers membership is capped at 36 members owing to limitations imposed by our practice venue, the loft room of Andover Museum.  If you wish to be placed on the Waiting List please Contact Us