Welcome! Andover Museum Loft Singers are a community choir from Andover, UK.
We sing unaccompanied harmony arrangements of folk music, local music from Hampshire and from the rest of the UK and other countries and continents.
Want to join this choir?  Contact us
Sing Out!
Sing Out! is the 2nd Covid-19 lockdown video project from Andover Museum Loft Singers. The song was written by the late Sarah Morgan, a former conductor of the choir, who wrote the lyrics and set them to the shape note tune "Russia" composed by Daniel Read. Here it is sung by members of the choir past and present, some on video others just on audio directed by Paul Sartin and edited by Matt Williams.
Lockdown Video Project with The Sheepstealers
The Sheepstealers invited the Andover Museum Loft Singers to join them to sing an original new song written by Rob Bartholemew and Pete Uglow.  Although The Sheepstealers started the project earlier this year, due to Covid-19 the recordings have been made by all the individual performers at home and edited together to create this video.  We hope you enjoy this performance, the video has been uploaded at Full HD resolution so to enjoy the full impact select "1080pHD" in settings.
Discover more of The Sheepstealers on FaceBook
Andover Museum Loft Singers in LockDown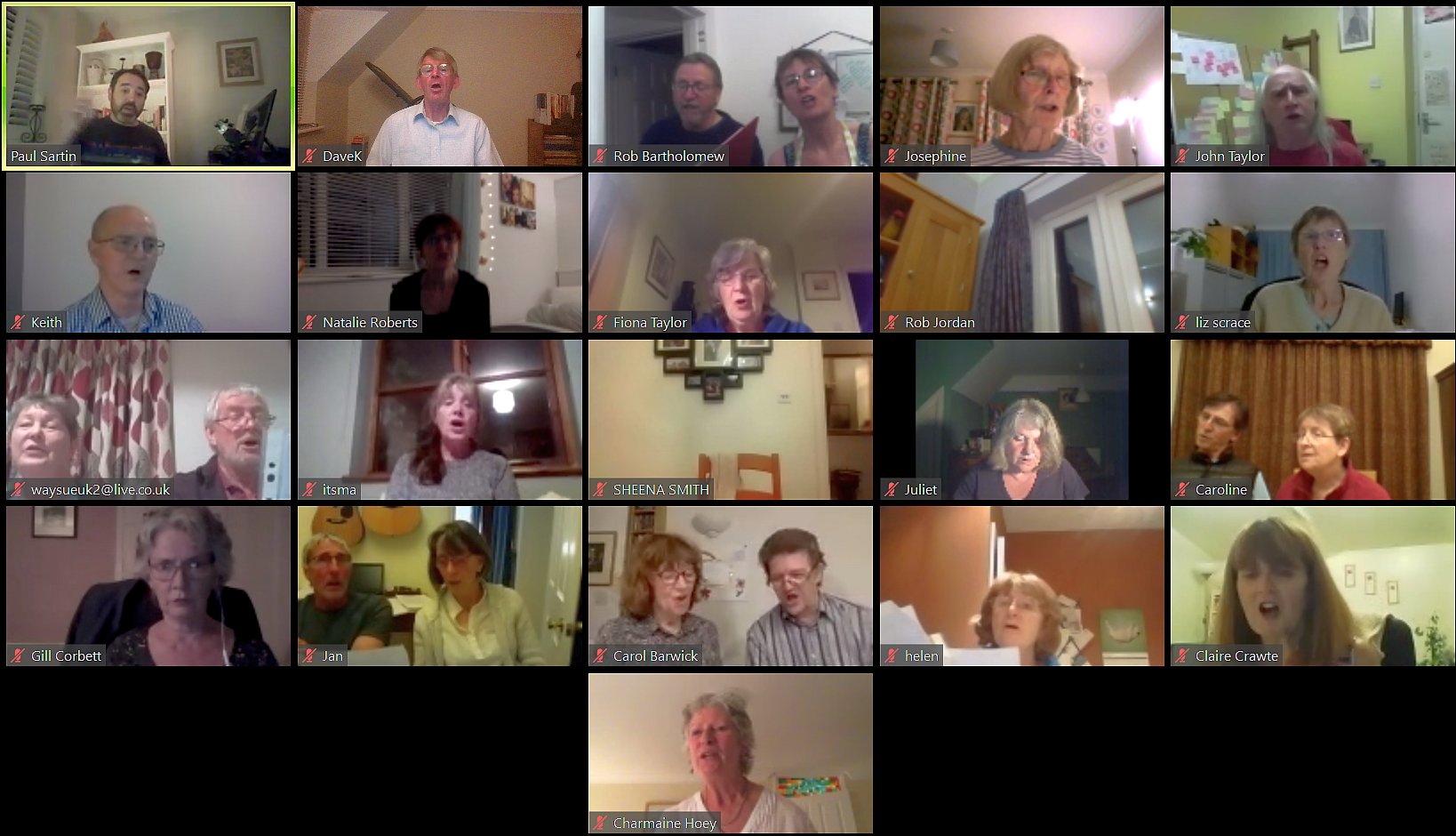 You may have wondered what Andover Museum Loft Singers have been doing during lockdown when the usual Thursday night reheasals in the Museum Loftroom are cancelled.  Here we are, 25 of us enjoying a Zoom session on Thursday 23rd April 2020 under the direction of Paul Sartin which ended with us all singing Hal an Tow on St George's Day!
Her Salisbury Story - Salisbury Guildhall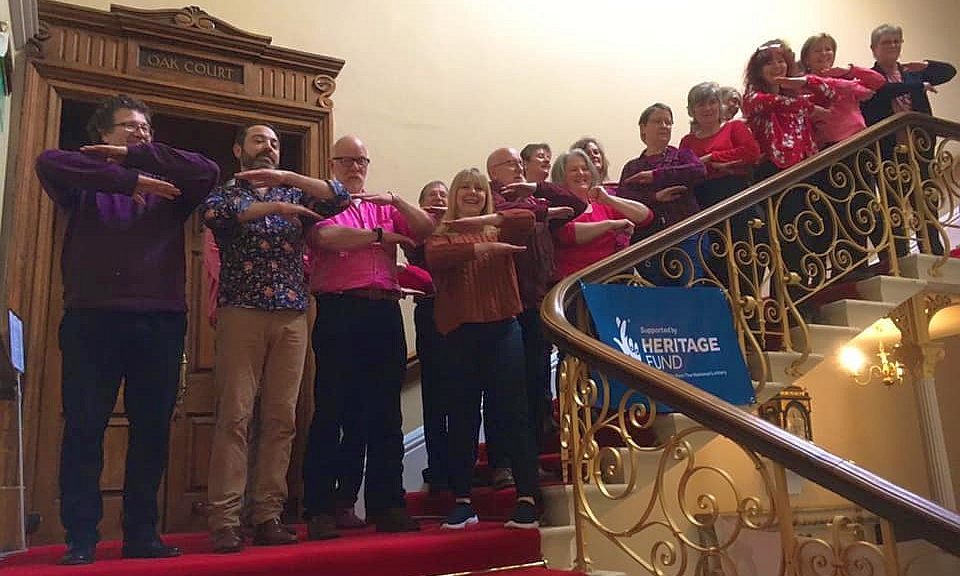 Andover Museum Loft Singers in Salisbury Guildhall on Sunday 8th March 2020 where we performed at 11.45am supporting the Her Salisbury Story event on International Women's Day.
Test Valley Arts Foundation Grant
We are delighted to announce with thanks that we have been awarded a grant by the Test Valley Arts Foundation in support of our forthcoming Raise Your Voice – Again singing workshop on the 21st March. A limited number of places are still available.
Solstice Walk - 22nd December 2019

Choir members, friends and relatives – a total of 37 individuals attended the annual Solstice Walk from Whitchurch to the White Hart, Stoke on the 22nd December.  The weather was kind, no rain, very wet underfoot but worth the effort to join the crowd gathered for carol singing and the Mummers play.  A collection raised £102.63 in support of the Countess of Brecknock Hospice.  Thanks to all but especially Steve and Marion for their organising the event.    Mic Laird
Charity Carol Singing - 12th December 2019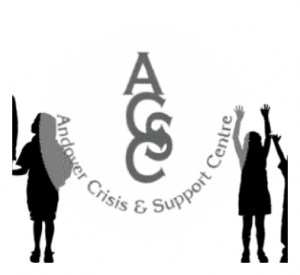 We would like to thank the patrons of The White Hart, Bridge Street, The Redbridge, Wetherspoons and The Lardicake for their generous donations which enabled us to present £178.02 to the Andover Crisis Centre as result of our carol singing.    Mic Laird
Living By The Sea - Sidmouth and Whitby Folk Festivals August 2019
AMLS choir members were invited by their Musical Director Paul Sartin to join him and his band Faustus at two of the summer's most prestigious Folk Festivals. Combining with a choir from the English Folk Dance and Song Society, and singing friends from Sidmouth and Whitby respectively, we were the chorus in a show of words, music and stories, entitled Living By The Sea. The show was written by storyteller Matthew Crampton, and Musical Direction was by Paul Sartin. Both Sidmouth and Whitby performances were enthusiastically received by festival goers.       Photographs: Barry Carter
Click image to enlarge
Andover Shilling Fair - 11th August 2019
Each year in August, Andover High Street comes to life at Andover Shilling Fair celebrating the town's Georgian heritage. The Georgian streets light up with a variety street performers, stalls, rides, horse drawn carriages and period costume, This year was no exception and Andover Museum Loft Singers entered into the festivities entertaining the crowds singing a varied set of songs under the direction of Paul Sartin.
Sarah Morgan Memorial Concert - 30th June 2019
We had a wonderful afternoon at the Sarah Morgan Memorial Concert in The Guildhall, Winchester.  Along with Alton Community Choir, Petersfield Community Choir, Spotlight Singers, Take Note and Winchester Community Choir, choirs which had been associated with Sarah, we praised her memory in song and helped to promote the Sarah Morgan Foundation.
Andover Rocks 2019 - 6th April 2019
RedFest 2019 - 6th April 2019
This Andover Museum Loft Singers promotional video presents the choir performing under the direction of Paul Sartin.
The song excerpts are from:
If I Was A Blackbird - Trad. arr: Paul Sartin
Love Is All Around - Reg Presley arr: Paul Sartin
Miners Lifeguard - Trad. arr: Paul Sartin.
The Bedmaking - Trad. arr: Paul Sartin
Please visit our Sounds page to hear the complete recordings of all these songs.
B-Naturals Workshop – 9th February 2019
54 singers attended a collaborative workshop between the AMLS and the B-Naturals in Whitchurch on Saturday 9th February where a full day of effort saw the teaching and then recording of four songs. All arranged by the B-Naturals they included 'Oh You Pretty Things – David Bowie; I Am The Walrus – John Lennon; Surfer Girl – Brian Wilson and The American Stranger (a new song for the B-Naturals).
Those that attended this very successful, enjoyable day ranged from far and wide – Alton to Frome and Oxfordshire were finally regaled to a very irreverent version of the Elvis Presley hit Blue Bijou – the tale of an aerial toupee – I Blew By You - which caused much merriment.
Sincere thanks to those that attended and the B-Naturals themselves for making the day so much fun.
Mic Laird – Andover Museum Loft Singers
Stroud Wassail - 12th January 2019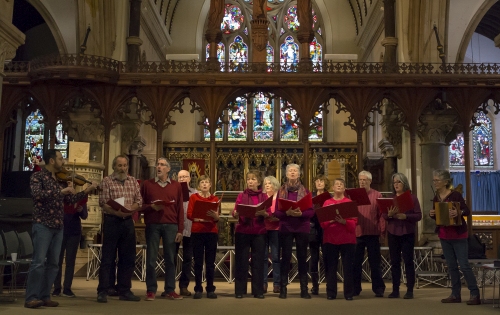 By invitation of the organisers, Andover Museum Loft Singers was the first choir ever to perform at the annual Stroud Wassail on Saturday, 12th January 2019.  We performed a selection of songs from our repertoire in two very different locations - St Laurence Church and outside the Subscription Rooms. Here we are pictured performing in St Laurence Church, accompanied by Paul Sartin and Gill Corbett.
The choir perfomances were well received and a great day was had by all.  For a video please click the link below.  (Click image to enlarge)
Choir Membership - Waiting List Is OPEN
The Andover Museum Loft Singers membership is capped at 36 members owing to limitations imposed by our practice venue, the loft room of Andover Museum.  If you wish to be placed on the Waiting List please Contact Us